Han Solo: A Star Wars Story. What we know so far. I will adjust the film title should a more specific one be announced.
ALDEN EHRENREICH IS HAN SOLO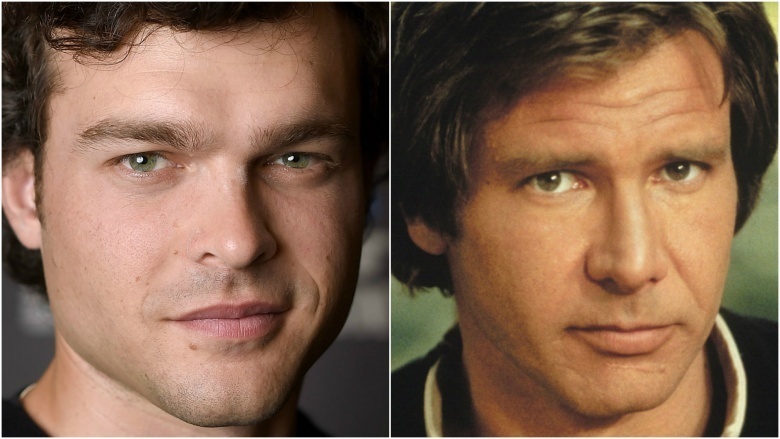 Today at Star Wars Celebration Europe, Alden Ehrenreich was introduced to fans for the first time as Han Solo, the new star of the untitled Han Solo Star Wars Story at the Future Filmmaker panel. The panel featured Lucasfilm's Kathleen Kennedy (producer) and Kiri Hart (senior vice president of Development), who were joined by director Rian Johnson (Star Wars: Episode VIII) and directing duo Chris Miller and Phil Lord (the untitled Han Solo Star Wars Story). Hosted by Lucasfilm Story Group's Pablo Hidalgo, the filmmakers were joined by surprise guests John Boyega (Finn), Mark Hamill (Luke Skywalker), and Carrie Fisher (General Leia Organa) from Star Wars: Episode VIII.
DONALD GLOVER CAST AS YOUNG LANDO CALRISSIAN IN UPCOMING HAN SOLO STAR WARS STAND-ALONE FILM
Hello, what have we here?

Donald Glover

Lucasfilm announced today that Donald Glover, an acclaimed actor, award-winning writer, and Grammy-nominated artist, will be playing the part of Lando Calrissian in the still-untitled Han Solo Star Wars film, helmed by directors Phil Lord and Christopher Miller. Glover will join Alden Ehrenreich — previously cast as Han Solo — in bringing two iconic Star Wars characters back to the big screen, but at a time in their lives previously unexplored. This new film depicts Lando in his formative years as a scoundrel on the rise in the galaxy's underworld — years before the events involving Han, Leia, and Darth Vader in The Empire Strikes Back and his rise to Rebel hero in Return of the Jedi.

"We're so lucky to have an artist as talented as Donald join us," said Lord and Miller. "These are big shoes to fill, and an even bigger cape, and this one fits him perfectly, which will save us money on alterations. Also, we'd like to publicly apologize to Donald for ruining Comic-Con for him forever."

Glover is best known for creating and starring in the critically acclaimed FX series Atlanta (which had the highest premiere numbers for any basic cable comedy show since 2013), as well as for starring in four seasons of the show Community, and for his Grammy-nominated album Because the Internet, performed under the name Childish Gambino. In addition, Glover appeared in the Academy Award-nominated The Martian, and will be seen in the upcoming Spider-Man: Homecoming.

The untitled Han Solo movie is set for release in 2018.
EMILIA CLARKE JOINS THE HAN SOLO STAND-ALONE FILM
Emilia Clarke is heading to a galaxy far, far away — and she's going to meet Han and Chewie.

StarWars.com is excited to announce that Clarke, known for her stirring portrayal of Daenerys Targaryen in Game of Thrones, will join the upcoming untitled Han Solo Star Wars movie. Clarke's role will round out a dynamic cast of characters that Han and Chewie will encounter on their adventures.

Clarke joins Alden Ehrenreich and Donald Glover — previously cast as Han Solo and Lando Calrissian, respectively — in the highly-anticipated film, which is set prior to the original Star Wars trilogy.

The untitled Han Solo movie, helmed by directors Phil Lord and Christopher Miller, is set for release in 2018.
http://www.starwars.com/news/woody-harr ... -solo-film
WOODY HARRELSON SIGNS ON FOR YOUNG HAN SOLO FILM
Veteran film and television actor Woody Harrelson is stepping aboard the upcoming Han Solo movie set to arrive in theaters next year.

Harrelson, known for wide-ranging roles in film and TV such as The Hunger Games, No Country For Old Men, True Detective, Cheers, and Zombieland, will join actors Alden Ehrenreich (Han Solo), Donald Glover (Lando Calrissian), and Emilia Clarke in the adventure. This Star Wars Story is the second in a series of films that live outside the Skywalker family saga, and is set during the early scoundrel days of the iconic characters, prior to A New Hope.

"We couldn't be more excited to work with an artist with as much depth and range as Woody," said the film's directors Phil Lord and Christopher Miller. "His ability to find both humor and pathos, often in the same role, is truly unique. He is also very good at ping pong."

The as-yet-untitled movie, which is being produced by Kathleen Kennedy, Allison Shearmur, and Simon Emanuel, is scheduled for release in 2018.